Prior to the COVID-19 health crisis, people were mainly conscious about where their food came from. Were the ingredients organic? Was it grown or raised locally? Was it fair trade?
But the rapid spread of the virus has led to larger, much more pressing concerns for consumers. Now, people are hyper aware about who touches their food and how they handle it. Are they wearing gloves and a face mask? Are prep counters regularly cleaned and sanitized? Are they washing their hands before preparing your food?
Food safety is paramount now. And people are seeking restaurant brands that are innovating new ways to ensure that their food is safe from any possibility of virus contamination, from preparation all the way through to customer hand-off.
Here are four ways restaurant operators are taking advantage of technologies that are helping to keep their customers safe during these unprecedented times.
Transitioning to an Online Ordering System
In addition to being convenient and ideal in today's digital-focused world, giving customers the ability to place an order online eliminates the need for direct social contact. And as COVID-19 is transmitted from person to person, removing this type of interaction helps to mitigate the spread of the virus.
Another perk of having your own online ordering system is that, in most cases, you can add to or edit the menu yourself.
With the novel coronavirus crisis essentially forcing restaurant brands to become increasingly agile, the ability to change your menu on-the-fly can help you adapt in this rapidly evolving consumer landscape and cater to any changing customer needs.
Implementing Contactless Payment Solutions
Did you know that a $1 bill remains in circulation for 18 months? And were you also aware that credit cards are dirtier than public restrooms and subway poles?
Conventional forms of currency, whether it be paper cash or plastic cards, are petri dishes of germs and potentially contagious agents. And in the midst of a health crisis, this is a clear concern. Utilizing contactless payment systems, like OneDine's PurePay™ for example, can help restaurants reduce the exchange of cash and credit cards and lessen the spread of the virus.
PurePay™ is a 100 percent contactless payment solution that consists of two options:
Text-to-Pay – Allows restaurant staff members to send an SMS link to a customer's phone that prompts them to pay
Scan-to-Pay – Enables customers to initiate payment by using their phone's camera to scan a QR code placed on a receipt or on a sign at curbside, a parking space, or a drive-thru window
Both options guarantee no touching and no exchange of cash, credit cards, or pens, helping to keep both customers and team members safe. And during the current gathering restrictions, we're offering PurePay™ to merchants with no commitment and at no charge (normal credit card processing fees apply).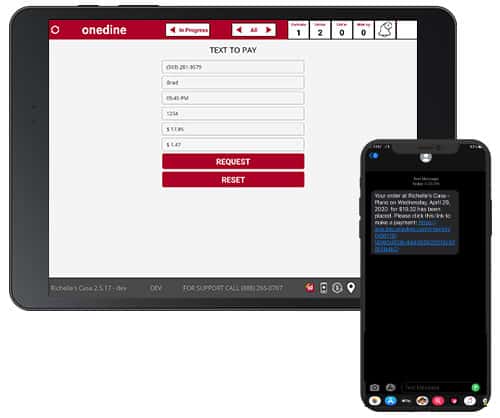 Installing AI-Powered Cameras
Originally designed to assess quality control, the AI-powered cameras developed by Dragontail Systems now have a new feature: the ability to check for sanitation conditions. It monitors things such as how often a workspace is sanitized or whether gloves and face masks are being worn. Exact parameters of what to monitor are up to the restaurant.
Restaurants can provide customers with a checklist of steps taken to show that their food was handled properly. This leaves them with peace of mind knowing the restaurant followed proper cleaning procedures when preparing their food.
These AI-powered cameras are currently being used in over 2,500 stores across Canada, Australia, Singapore, Belgium, and the UK. And further expansion into the US is planned for restaurants of all sizes.
Executing Contactless Takeout
In the wake of the novel coronavirus crisis, many restaurants have transitioned to offering takeout. And some have created safer, more efficient takeout operations by using technology, like our contactless curbside order, pay, and pick-up solution, that makes it completely touch-free.
In as little as 24 hours, and whether or not you have a parking lot, OneDine can turn your restaurant into a revenue-generating takeout venue with the utmost in safety and social distancing. With our touchless solution, your customer can:
Use their mobile devices to place a pre-order or scan a QR code on a standing sign near your restaurant to place their order
Seamlessly pay for their orders using their phones
Have their orders delivered directly to their cars
Similar to our PurePay™ technology, in light of the current gathering restrictions, this solution is also being offered to restaurants at no cost for set-up and with no contracts.
As we continue to navigate what the world has and will become due to COVID-19, technologies like the ones we've mentioned here can help restaurants navigate a rapidly changing landscape. And when we eventually come through this health crisis, they can also help restaurants adapt to the inevitable new normals that are to come.