Due to the timing of the COVID-19 closures and travel bans, a lot of people missed, are missing, and (likely for the foreseeable future) will miss out on vacation trips and getaways. So it can be assumed that many will stay closer to home and possibly plan staycations within their areas.
This means staying at nearby hotels, dining at their favorite local restaurants, exploring cool places in their neighborhoods, or visiting some notable tourist attractions in their local areas.
But with the virus forcing local businesses with dining areas to adhere to mandates surrounding social distancing and reduced capacity, how can they effectively manage a possible influx of customers wanting to dine on their premises?
Related post: A Guide To Reopening Your Casual Dining Restaurant
After all, consumers are showing pent-up demand for in-restaurant meal occasions, according to data shared by Datassential during a Nation's Restaurant News webinar titled "How Consumers Are Shifting During COVID-19."
If your business is experiencing a sudden influx of customers, here are a few ways to manage the rush, while ensuring you maintain coronavirus-related safety guidelines.
Encourage Customers to RSVP
No matter what the size of your establishment is, every business is being called to limit their capacity in order to uphold the six-feet-apart social distancing standard.
To have better control over your seating capacity and prevent overcrowding, encourage your customers to reserve a table ahead of time.o make it easy, publish open times and seating arrangements on your website. This gives customers the ability to pick and choose their preferred seating area, similar to the way people pick their seats when purchasing tickets to an event online.
Give Customers More Control Over Their Experience
Implement technologies that allow guests to take certain elements of their experience into their own hands. This limits physical contact between customers and employees, helping to keep everyone safe.
At OneDine, we make adopting these technologies easy. Our contactless guest-side on-premise solutions allow any organization with a dining area to safely and conveniently serve guests.
Our mobile-based order solution lets customers seated in your venue tap their mobile devices on an NFC-enabled sensor or QR code at their table, launching a digital menu that they can browse and use to place their orders, which are then instantly fired to the kitchen.
Guests can also close the loop on their dining experience by utilizing OneDine's PurePay™ technology. They can easily split the check, pay per menu item, pay in full, and add a tip all from their device.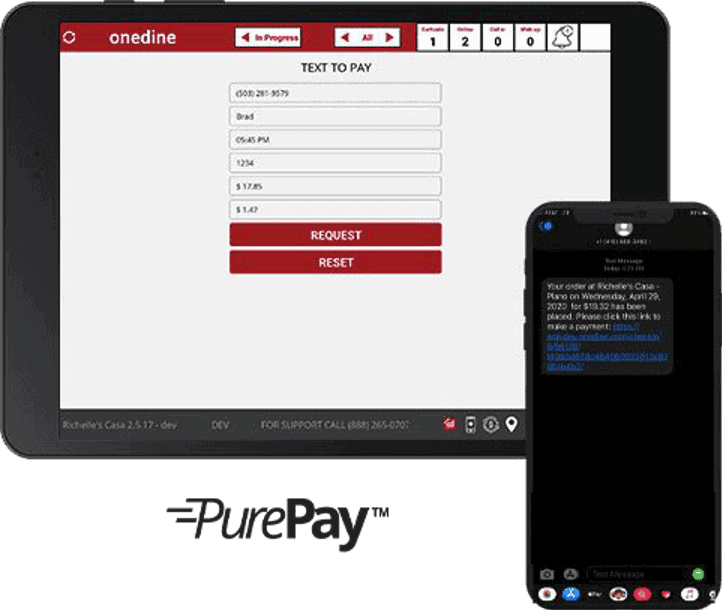 PurePay provides two different options:
Text-to-Pay: A team member sends an SMS link to your customer's mobile device that prompts them to pay via Apple Pay, Google Pay, or credit card
Scan-to-Pay: This enables customers to initiate payment by using their phone's camera to scan a QR code from a receipt or from your management tablet, or by checking-in using the table sensor
Although this means that customers will have limited required interaction with servers, this doesn't have to mean that their dining experiences will be negatively impacted.
Contactless solutions reduce the need for frequent trips to the kitchen or register, freeing your team up to focus on delivering world-class experiences.
Promote Off-Premise Dining via Takeout
Even though your business is open for dine-in service, don't ditch the option for takeout.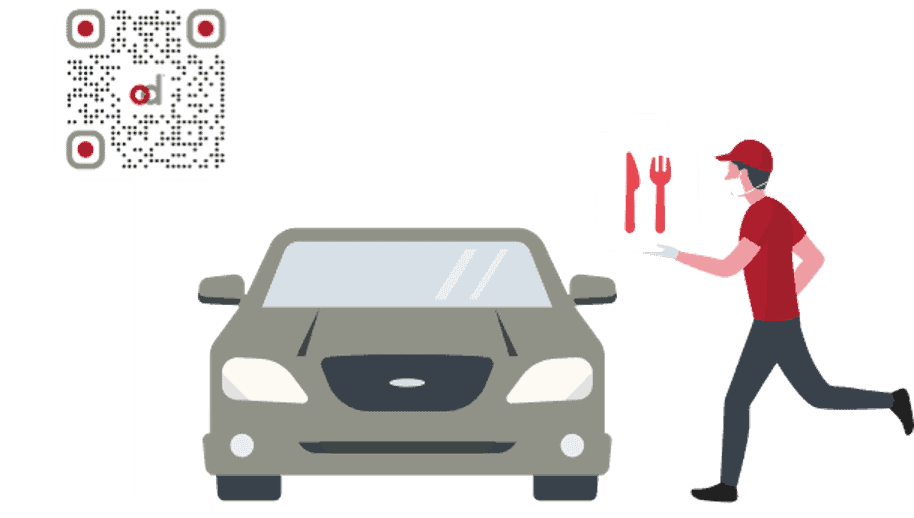 To help venues offer a convenient, seamless, and efficient takeout service, OneDine offers a comprehensive contactless solution that handles every aspect of the takeout experience.
How it works:
OneDine's Online Order Ahead technology allows customers to conveniently place their orders directly from their mobile device, wherever they may be: at home, at work, or on the go. Orders can be sent directly to your POS system, or to a management tablet to be entered by a team member.
Similar to our on-premise solution, customers can also use OneDine's PurePay platform to pay for their takeout orders using a credit card, Google Pay, or Apple Pay.
Upon reaching your venue to pick up their orders, an SMS link allows customers to notify you via text of their arrival, making it easy for your team members to deliver their orders directly to their vehicles.
Not only does takeout give your customers the opportunity to enjoy your food safely off-premise, it also gives your business the opportunity to still make sales when your dining areas hit maximum capacity.
With consumers showing a desire to return to on-premise meal occasions, venues need to prepare for the possibility of receiving a sudden influx of guests. And just because you have to adhere to certain restrictions brought on due to the virus, it doesn't mean that your options for maximizing revenue are limited.
By encouraging customers to reserve a table before they arrive to maintain capacity, implementing solutions that allow guests to have a contact-free dine-in experience, and offering a touchless takeout service, venues can effectively and safely handle an unexpected rush of guests looking to dine at your establishment.